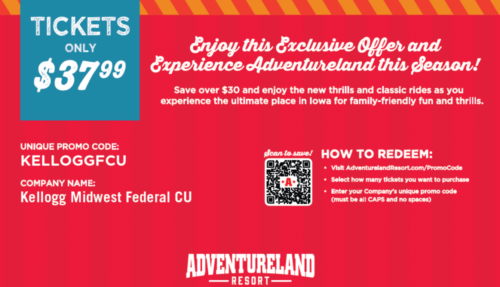 Member Perks
Access your paycheck sooner than your expected payday. It's free! When you have direct deposit with Kellogg Credit Union, you can automatically get your funds up to two days early. Terms Apply.
Free Financial Education from GreenPath
GreenPath offers personalized financial assistance with:
Budgeting and money management
Debt repayment
Understanding your credit report and how to improve your score
Avoiding bankruptcy, foreclosure, and repossession
Affordable Insurance Options
Insurance is part of a solid financial plan. Kellogg Credit Union has joined with a dedicated team of insurance professionals to bring you the TruStage® insurance programs.
Roadside Assistance w/ Assured Club Checking
With an Assured Club Checking account you can rest assured that we care about where you're headed and we're here to get you there safely.
Credit Monitoring w/ Assured Club Checking
With an Assured Club Checking account at Kellogg Credit Union in Omaha, you get the best protection including credit monitoring!
IDProtect® w/ Assured Club Checking
Protect your Identity with IDProtect®
Dark Web Monitoring w/ Assured Club Checking
Our Assured Club Checking account can monitor the Dark Web for stolen data, and will notify you right away if your information has been compromised.
Shopping Rewards™ w/ Assured Club Checking
As a $hopping Rewards™ member you have access to exclusive offers and discounts at thousands of leading online retailers. Simply shop online using our customized shopping portal and receive cash back.
You may be eligible for a discount on your loan rate. Terms Apply. Ask our team for more information!
Don't overpay for an expensive dealer warranty with a high deductible. Protect your investment with a warranty from Route 66.
Kid$ Club Savings Accounts
Help your kids get started saving early!
We match all new Kids Club opening deposits up to $25.00
Each new Kids Club member leaves with a special credit union coloring & activity book
Keep tabs on your Credit and Debit cards!
Protect Yourself: Get mobile alerts whenever your card is used
Track Card Use: Review card usage history and transaction details
Set limits: Customize your purchase controls to help manage spending
Future Homeowner Savings Accounts
Making the decision to buy a home is huge- it's likely one of the largest purchases you'll ever make. When the time comes, make sure you're ready.
Kellogg Credit Union created a savings account for our members that's specifically designed to help you prepare for the costs of purchasing your new home, whether that's one year, five years, or more than fifteen years down the line. 
You may be able to skip up to two payments a year on eligible loans.
Come in and get your coin counted for free!