Who needs a personal loan?
Personal loans are a great option for anyone who has an unexpected expense pop up that they were unable to save for. Personal loans can be used for any purpose—debt consolidation, vacations, repairs on a vehicle, a home improvement project, or an operation on the family pet—you name it. It is a good idea to consider one of our personal loans if you are facing a large purchase that would take more than a year to repay, or if your credit card is at or near its maximum credit limit.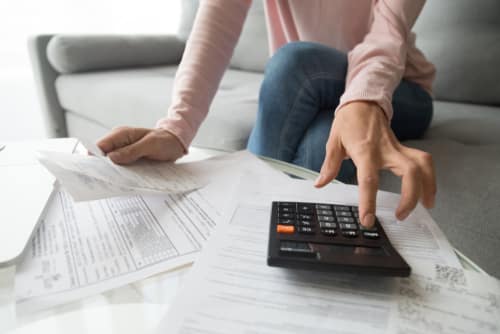 Applying for a personal loan online is easy.
You can apply for a personal loan online now. We work to get your application processed and turned around quickly so you get an answer on your loan eligibility.
What is a personal loan, and how does it work?
A personal loan is a type of installment loan—a financial product that lets you borrow a fixed sum of money, then pay it back slowly over time. These loans, which include personal loans, also have the benefit of fixed interest rates and fixed monthly payments.
Where some credit card interest rates tend to be high, personal loans extend much lower rates to consumers with good or excellent credit. Even if you have less-than-ideal credit, we consider other factors to qualify you, and you could still receive a competitive rate.
Some key benefits of taking out a personal loan include:
Flexibility and versatility — personal loans can be used for many purposes, from consolidating debt to paying off bills, taking a family vacation or home renovations, plus much more. If you want to finance a major purchase or project but don't want to be locked into how you use the money, a personal loan can be a good alternative.
Lower interest rates and higher borrowing limits — as of February 2021, the average personal loan rate was 11.8%, while the average credit card rate was 16%. Consumers with excellent credit history can qualify for personal loan rates in the range of 9-10%, and you'll likely qualify for a higher loan amount than the limit your credit cards allow.
No collateral requirement — unsecured personal loans require zero collateral to get approved, so in the case of a repayment emergency, you don't ever have to give up your personal belongings.
Simpler to manage — people often take out personal loans to consolidate debt, such as multiple credit card balances. A personal loan with a single, fixed-rate monthly payment is much easier to manage than several credit cards with different interest rates, payment due dates, etc.
Easy to set up — personal loans usually come through very quickly once approved, and the application process is very simple! 
Speak with one of our financial specialists today to find out if a personal loan is the best option for you! 
Unsecured Loan Rates
| APR as low as* | Term | Approx. Loan Pmt.** |
| --- | --- | --- |
| 11.65% APR | Up to 60 mos. | $220.72 |
Rate Discounts Available!
Take 0.25% off the stated rates if you add debt protection to your loan.
Take 0.50% off the stated rates if you are an existing member who uses KCU as your primary financial institution and automatic payments for this loan are set up. Qualifying factors include: active checking account with payroll deposit, actively used debit card, average daily balance over $50.00, and signed up for e-statements.
*APR = Annual Percentage Rate. Your actual APR will be determined at the time of approval and will be based on your application and credit information. Rates quoted assume excellent borrower credit history. Not all applicants will qualify for the lowest rate. Other restrictions may apply. Programs, rates, terms, and conditions are subject to change without notice.
** Loan payment estimates based on a $10,000 unsecured loan for 60 months.
Overdraft Protection Line of Credit
| APR* | Term | Min. Monthly Payment |
| --- | --- | --- |
| 18.00% APR | Revolving | $30.00 |
*APR = Annual Percentage Rate. Other restrictions may apply. 
Debt Protection
Protect your family from the unexpected. Coverage available for death, disability, and involuntary unemployment.