Checking Made Simple
Our basic checking accounts and banking services in Omaha are the perfect starting point when building your roadmap to financial success. No gimmicks, no frills, just an easy option for your everyday banking needs. With access to over 70,000 surcharge-free ATMs across the nation, easy to use online banking with bill pay, and much more.
No Hidden Costs
Here at Kellogg Credit Union, we believe banking should be easy and transparent, which is why there are no hidden costs when you open a checking account. You need only a starting deposit of just $5 to get started with one of our basic checking accounts. From then on, you don't need to worry about maintaining a minimum balance, there are no monthly fees, and you get full access to over 70,000 surcharge-free ATMs so you can access your funds anywhere.
Mobile and Online Banking
Access your accounts at home and on the go with our online account access and mobile banking app. Not only will you be able to view your balance, transfer funds, and make mobile deposits, but when you open a basic checking account, you also get access to bill pay, so you can easily manage your bills all in one place.
First 50 Checks Free
In an ever growing digital world, more and more payments are occurring online and through debit and credit cards. However, there are still benefits to be had in maintaining an active checking account with physical, paper checks. For starters, some landlords and realty agents will only accept payment with a check. Some companies will also charge a fee to process a credit or debit card payment, while there is no fee for using a check. Checks may not be something you always use, but you'll be glad you have them when you need them.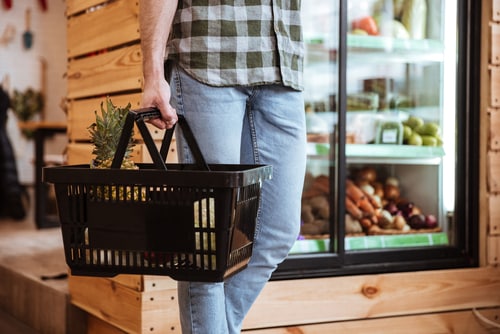 We make it easy to access your account on the go.
No Minimum Balance
No Monthly Fees
Unlimited Visa® Debit Card / ATM Use
Courtesy Pay Overdraft Protection
70,000 Surcharge-FREE ATMs
| | Basic Checking |
| --- | --- |
| Dividend | 0.05% APY* |
| Fee | $0 |
| Early Pay | |
| Debit Card | |
| ATM Network | |
| Bill Pay | |
| First 50 Checks Free | |
| CardValet | |
| Courtesy Pay | |
| Paper Statements | |
| Electronic Statements | |
| Credit Monitoring | |
| ID Theft Protection | |
| Credit Score | |
| Credit Simulator | |
| Roadside Assistance | |
| Cell Phone Protection | |
| Rewards/Discounts | |
| Health Savings Benefits | |
| Dark Web Monitoring | |
| Separate App/Website | |
| Minimum Opening Deposit | $5.00 |
| Minimum Balance to Earn Dividend | $500.00 |
*APY (Annual Percentage Yield) reflects the total amount of dividends paid on this account, based on the dividend rate and frequency of compounding, in a 365-day period. For dividend-bearing checking and savings accounts, KCU pays dividends monthly on the last day of each month. Withdrawal of dividends and fees may reduce earnings on this account.
Debit Cards
When you open a basic checking account with Kellogg Credit Union in Omaha, you can request a Visa® Debit Card which gives you easy access to your funds.
Offering CardValet® gives our cardholders extra protection against fraud on their KCU cards.
Setup Transaction Controls
Turn Cards On and Off
Customize Transaction Alerts
Visa® ATM cards are available on accounts with a share savings account only.
Manage Spending Easier
With CardValet, you'll get access to your purchase history, which makes tracking and managing your spending easier. See where your money is going so you can properly budget your monthly expenses. This allows you to adjust your spending and make sure you never over spend.