Plan on saving more?
With a Money Market checking account from Kellogg Credit Union in Omaha, you get better rates and no fees, so your money works harder for you! This account is subject to a minimum balance, and it's the perfect way to save smarter while still having access to all your hard-earned money. 
While they sound the same, money market checking accounts should not be confused with money market funds. Money market funds do not offer the same guarantees or insurances that money market checking accounts offer.
Benefits to a Money Market Account
Higher Savings Rate
One of the most appealing benefits of a money market account is that they have a higher savings dividend rate compared to a traditional savings or checking account. The more you invest, the greater a dividend rate you can receive on your savings. All of this with no monthly fee.
Higher Liquidity
Compared to similar savings options, money market checking accounts are easier to access. You are able to get checks to use for monthly withdrawals. The ability to make a set amount of withdrawals makes a money market checking account perfect for emergency or unplanned expenses.
Insured Savings
Money markets are also insured against loss. Kellogg Credit Union is federally insured by the National Credit Union Administration, making your funds insured to a minimum of $250,000. This makes money market accounts much safer than other forms of savings, like stock or bonds, where there aren't insurances in place. Even money market mutual funds, which are short-term investments and are considered low risk, aren't insured against loss.
Safety During Market Turmoil
During periods of market turmoil and volatility, money market accounts remain safe options for investment. As stated earlier, money market accounts are insured by the National Credit Union Administration. This makes these financial accounts much more appealing during times of economic uncertainty.
Restrictions of Money Market Accounts
There are a few considerations to keep in mind when considering a money market checking account. Money market accounts also do not have the same growth rate as other savings and investment options.
It's important to weigh the pros and cons of a money market checking account compared to other saving and investment options. If you would like to learn more about opening a money market checking account with Kellogg Credit Union, reach out to our friendly representatives today!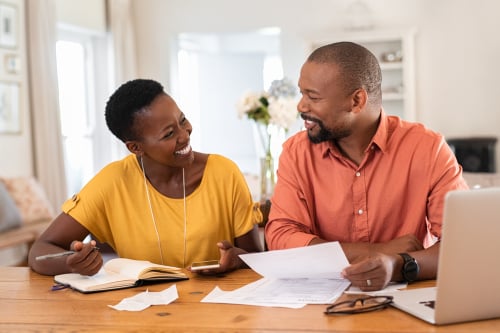 Our Money Market checking accounts in Omaha may be a better fit for your financial needs.
Free online and mobile banking
Competitive rates
Free mobile deposits
Money Market checks available
Money Market Checking

Minimum Opening Deposit

$1,500.00

Dividend

$1,500.00 - $9,999.99 = 0.10% APY*
$10,000.00 - $24,999.99 = 0.15% APY*
$25,000.00 or greater = 0.20% APY*

Minimum Balance to Earn Dividend

$1,500.00

Dividends Paid

Monthly

Monthly Fee

$0.00
*APY (Annual Percentage Yield) reflects the total amount of dividends paid on this account, based on the dividend rate and frequency of compounding, in a 365-day period. For dividend-bearing checking and savings accounts, KCU pays dividends monthly on the last day of each month. Withdrawal of dividends and fees may reduce earnings on this account.