Do You Need a Car Loan? 
At Kellogg Credit Union, we've been helping our members get competitive auto loans since 1946. Getting approved for a loan at a reasonable rate from a lender you can trust may seem like a daunting task, which is why we offer car loan financing designed with your needs in mind. Kellogg Credit Union provides the lowest possible rates to our members, and with reduced interest rates and an easy payment plan, your car loan can actually help improve your credit score!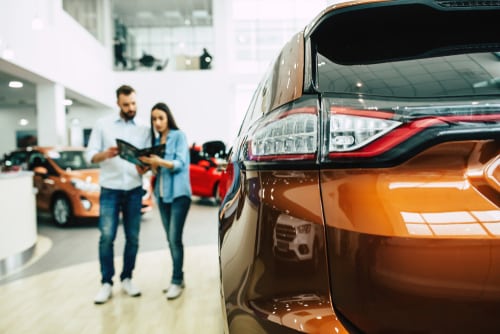 Rates
| APR as low as* | Term | Approx Loan Payment** |
| --- | --- | --- |
| 2.99% | 36 months | $581.56 |
| 3.24% | 60 months | $361.53 |
| 3.74% | 72 months | $310.56 |
| 4.24% | 84 months | $275.62 |
| APR as low as* | Term | Approx Loan Payment** |
| --- | --- | --- |
| 4.24% | 36 months | $592.64 |
| 4.49% | 60 months | $372.79 |
| 4.74% | 72 months | $319.72 |
Rate Discounts Available!
Take 0.25% off the stated rates if you add debt protection to your loan.
Take 0.50% off the stated rates if you have your payroll direct deposited to your KCU checking account and setup automatic payments for this loan from your KCU account.
For model years older than 2016, call for rates.
*APR = Annual Percentage Rate.  Your actual APR will be determined at the time of approval and will be based on your application and credit information. Rates quoted assume excellent borrower credit history. Not all applicants will qualify for the lowest rate. Other restrictions may apply. Programs, rates, terms, and conditions are subject to change without notice.
** Loan payment estimates based on a $20,000 loan.
Should I Apply for a Car Loan?
When considering applying for an auto loan, there are three main things to take into consideration. The annual percentage rate (APR) of the loan, the total loan amount, and the length of the loan. Regardless of whether you are looking to make a new purchase or refinance an existing car loan, you have options.
Annual Percentage Rate (APR): The APR of your loan is affected by several factors, such as the age of the car as well as the loan term. Here at Kellogg Credit Union, we work hard to make sure you have the lowest rates possible to help you save money.
Loan Amount: While the loan amount won't directly affect your APR, it will influence the size of your monthly payment. If possible, look at trade-ins or making a large down payment. This will lower your total loan amount, which, in turn, will reduce your monthly payments.
Loan Term: This is how long you have to pay back your auto loan. Longer loan terms typically have a higher APR. The loan term that is best for you will depend on your financial situation and goals. No matter what you need, Kellogg Credit Union will get you the lowest rates possible for your loan.
If you would like to learn more about the car loans we offer or would like to apply, reach out to Kellogg Credit Union today!