Who needs a personal loan?
Omaha personal loans are a great option for anyone who has an unexpected expense pop up that they were unable to save for. Personal loans can be used for any purpose—debt consolidation, vacations, repairs on a vehicle, a home improvement project, or an operation on the family pet—you name it. It is a good idea to consider one of our Omaha personal loans if you are facing a large purchase that would take more than a year to repay, or if your credit card is at or near its maximum credit limit.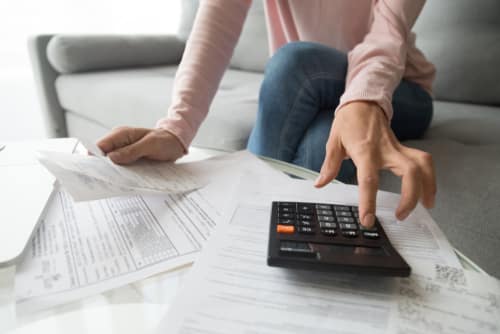 Applying for a personal loan online is easy.
You can apply for a personal loan online now. We work to get your application processed and turned around quickly so you get an answer on your loan eligibility.
Unsecured Loan Rates
| APR as low as* | Term | Approx. Loan Pmt.** |
| --- | --- | --- |
| 8.65% APR | Up to 60 mos. | $205.96 |
Rate Discounts Available!
Take 0.25% off the stated rates if you add debt protection to your loan.
Take 0.50% off the stated rates if you have your payroll direct deposited to your KMFCU checking account and setup automatic payments for this loan from your KMFCU account.
*APR = Annual Percentage Rate. Your actual APR will be determined at the time of approval and will be based on your application and credit information. Rates quoted assume excellent borrower credit history. Not all applicants will qualify for the lowest rate. Other restrictions may apply. Programs, rates, terms, and conditions are subject to change without notice.
** Loan payment estimates based on a $10,000 unsecured loan for 60 months.
Overdraft Protection Line of Credit
| APR* | Term | Min. Monthly Payment |
| --- | --- | --- |
| 18.00% APR | Revolving | $30.00 |
*APR = Annual Percentage Rate. Other restrictions may apply. 
Debt Protection
Protect your family from the unexpected. Coverage available for death, disability, and involuntary unemployment.